Fresh from the pages of Practical Classics Magazine, we meet three new car restorers who have changed their classic cars for the better, featuring a XJ40 Jaguar, a VW Mk1 Golf and a Porsche 914. 
As a specialist classic car insurance broker, we love seeing old cars being restored to their former glory, which is why we've linked up with Practical Classics to bring you two fantastic stories each month for you to digest and take as inspiration for your own classic rebuilds. 
The 1990 XJ40 Jaguar restoration project that took years to build
Words by David Milloy and Pictures by Andy McCandlish 
Jim Fraser has been a fan of the Jaguar XJ since childhood. "My mother owned an old series 1 XJ when I was a boy," he says. "Unfortunately, she parted ways with it before I was old enough to have a driving licence." His love for them never wavered over the years that followed, but as he puts it: "The running costs did put me off buying one.'
A diesel version would have been ideal, but Jaguar never saw fit to offer one. "No problem," thought Jim, "I'll convert one myself." But which one? With the Series 1 to 3 XJ models having become sought after – and pricey – classics, the newer and less expensive XJ40 presented itself as the ideal candidate for conversion.
Jim's hunt for an XJ40 was rewarded in July 2016 when he saw a 2.9-litre Sovereign specification model advertised on eBay. It wasn't exactly local, being in Wrexham, some 280 miles from Jim's home in Rosyth. But on the strength of a helpful video supplied by the seller, Jim flew from Edinburgh to Liverpool (the nearest airport to Wrexham), bought the car and drove it home. 
Although the XJ40 performed faultlessly, its thirst validated his idea to fit it with a more fuel-efficient power plant. More homework followed, as Jim looked for an engine that could be shoehorned into an XJ40 without having to undertake major re-engineering work.  Although Jim is a fan of Mercedes diesel engines, it was a BMW unit – the 2.5-litre M51 turbo diesel – that best fitted the bill. 
Decision made, Jim wasted little time in finding a donor car – a 1995 BMW 325 tds in Birkenhead. It was roadworthy and had an MOT certificate, so Jim once again hopped on a plane to Liverpool and drove the car home. Job done, the serious work was about to begin.
The Swapover
For most people, transplanting an engine into a car that was never designed to accept it would be a task best described as 'daunting'. Not Jim, whose previous track record includes restoring his Singer Chamois twice and rebuilding a previously unregistered Bohanna Stables Nymph to SVA standard. "Coming from a family of petrolheads, I've been interested in cars and car mechanics since I was a kid. To my mind, the best way to learn is by having a go at it yourself and then trying to do it better next time." 
Carrying out the work in his garage, Jim was able to remove the engines and gearboxes from both cars as complete units. His task was made much easier by having invested in a single-post lift, enabling him to lift the car high enough to give him access from underneath. 
With the engine and box out, Jim's next challenge was to design and fabricate mounts that enabled the BMW's engine, gearbox and ancillaries to be attached to the Jaguar's mounting points. As he wanted the conversion to be reversible, drilling holes in the Jaguar's engine bay was not an option! This part of the job was time consuming, but Jim reasoned it was better to take his time no matter how long was needed to complete it correctly, rather than end up with a quick but unsatisfactory job. 
The BMW's radiator and intercooler were retained. "Apart from being the right size for the engine, they made for a neater looking installation." The propshaft, however, presented rather more of a challenge. One solution would have been to commission a new, bespoke propshaft, but as Jim was keen to utilise the XJ40's existing one, another solution needed to be found. His answer was to make a very small section of the BMW propshaft with the Jaguar's by means of a bespoke adapter plate, which an engineering company fabricated for him. 
Integrating the Jaguar and BMW wiring looms was another challenge, albeit one made much easier thanks to the assistance of electric wizard Derek Christie, a former Peugeot master mechanic. Having fitted the engine and connected everything up, it was time to put some fuel into the Jaguar's new engine. But instead of pump diesel, Jim filled it up with biodiesel, which he makes himself in his garden shed. 
Inside the box
The XJ40's interior was in very good order, so there was little Jim needed to do. He did, however, fit new headlining, the original material having been removed from its backing board by a previous owner. "Sam Saunderson, a friend who previously replaced the headlining on his car came over and gave me a hand, on top of which he was also a great source of helpful hints and tips. The other thing that made the job a lot easier was removing the backing board from the car before retrimming it."
Headlining apart, Jim's other concern was the positioning of the BMW gear selector. "I didn't want it to look like a lash-up. After a lot of work over a period of a week, I managed to position it so I was able to retain the XJ40's wooden 'ski-slope'. Then I added a small amount of chrome to give it a factory-fitted look. It was time-consuming, but very rewarding."
What's it like to drive?
With its power output having been increased (by dint of an aftermarket chip) to 176bhp, the BMW engine in Jim's XJ40 is both smooth and refined. Indeed, so smooth in fact the engine and gearbox could almost pass for factory fitted. Almost. The sole blot on the landscape – and it's really more idiosyncratic than a flaw – concerns the gearbox, which looks for input from a speed sensor that isn't present on the XJ40. 
Consequently, there are situations where it's in too high a gear. The solution is simple: lift off the throttle for a moment or two then plant your right foot. As if by magic, the gearbox drops two ratios and boost is restored. And that's it. Retaining its original suspension and brakes, it otherwise feels like any other XJ40 – calm, competent, unruffled – and, if anything, a bit quicker than a petrol 2.9-litre XJ40. And with biodiesel costing Jim about £0.20 a litre to produce, seldom has motoring in style cost so little. 
Read the full version of how Jim managed to transform his Jaguar XJ40 on the Practical Classics page.  
The ultra-rare yellow VW Mk1 Golf transformed to perfection 
Words by John Simister and Pictures by Matt Howell  
Scientists tell us that bright yellow is the most easily seen colour of all. You just can't miss it. James Henderson's June 1976 Marino Yellow Volkswagen Golf L certainly drew many long looks at last August's Mk1 Golf Owners' Club Annual Gathering at Stratford-on-Avon's racecourse. It won best-in-class for standard-spec cars, and then it won best-in-show. Not surprising, really. It looks new. 
Seldom has a car seemed to escape the ravages of time like this one. Except it didn't: seven years ago, it was a tired, tatty and reasonably rusty ruin in need of a lot of love. It was also still wearing some of its original silver paint, faded and scabby. So why devote a huge amount of time and effort to such a mundane, sad-looking motor car?
Because it's a very early one, and very early Golfs are rare and precious jewels in the Volkswagen enthusiast universe. This one is, in fact, a 'Swallowtail'. How these earliest Golfs got that name is a mystery – there's no sign of a long, forked appendage at the aft end, after all – but it refers to the shape of the rear panel pressing just below the number plate.
The very first Golfs had a very pronounced dip in the crease line across the rear panel linking the bases of the tail lights, forming a visual frame for the number plate. After a few months of production the corners of the dip were made less abrupt, as in James' Golf. And by late 1976 the dip had gone altogether, replaced by a straight crease which continued below the tail lights instead of abutting them.
"We found it in April 2015 at a Golf Mk1 specialist, CrazyQuiffs in Oxfordshire," James reveals. "We'd had other Golfs and we used to get parts from them all the time. They were going to restore this one, but when Dad asked if they had any early cars, they said it could be for sale. 'It's not in great shape,' they said, and we did think it might be too much work. But we bought it anyway, and it was delivered a few weeks later."
Their worries were confirmed. "We poked around the body, and it was a bit worse than we thought. But we went ahead and stripped it to a bare shell, then got it acid-dipped at SPL to get rid of all the rust and filler. And then we took the shell back to Crazy Quiffs for all the metal work."
It would stay there for about a year. The crazily-quiffed craftsmen let new steel into the inner front chassis legs, the inner and outer rear wheel arches, both front and rear lower valances and anywhere else that required it. Inner and outer sills were replaced with new genuine panels, as were the front inner wings. There, certain depressions specific to the early cars were cut out of the old panels and grafted into the new ones. 
While the body was being beautified at a cost ultimately into five figures, James set about gathering all the new parts he needed. "Mostly they came from German eBay," he reveals, illustrating how such internet platforms have transformed the way we find and buy obscure parts for our old cars. "I could re-use some of the original trim, such as the window surrounds in the doors, the door cards and the glass, but otherwise I searched for genuine factory parts, either new or new-old-stock as far as possible. It's all proper; I keep away from aftermarket parts as much as possible, although I did have to fit a good aftermarket exhaust system."
And the mechanicals? The Golf had covered 114,000 miles so some refreshing was needed. James and Mark stripped the 1.1-litre, 50bhp engine and took the parts to a local mechanic who got the required machining work done. The cylinder head was skimmed, pistons and the clutch were replaced, parts were powder-coated or passivated as needed, and then father and son put it all back together.
What is it like to drive?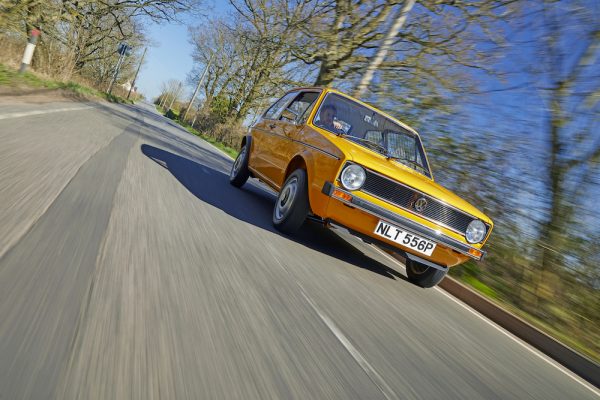 In the mid-Eighties, family Simister had a similar three-door, 1093cc, pre-facelift Golf Mk1, albeit a W-reg in ultra-basic trim. Helped by its light weight, it always had a keenness that belied its modest power, and James' slightly plusher model feels exactly as remembered.
There's that same fruitiness in the exhaust note, the same panoramic view compared with a modern car, the same sedate and springy but light and accurate steering, the same long travel clutch whose cable is not, unlike in many Mk1s back then, threatening to pull through the bulkhead. And the gear change has the same mix of ease and imprecision.
That lovely Volkswagen design crispness is all around, lent a very seventies vibe with dashes of brightwork toned down in later Mk1s. There's nothing cosseting or luxurious about the Golf, though; it's too Germanically practical for that, and too noisy with the short-legged gearing that gives it its eagerness. And, by today's standards, it's tiny: smaller than a modern Polo by some margin. That makes it a delight to thread through lanes.
Read the full version of how James managed to transform his VW Mk1 Golf on the Practical Classics page.  
Me and my Porsche 914 restoration
Words and pictures by Matt Richardson 
I'd owned a couple of four-cylinder Porsches before, a 944 and another 914 but wanted a six-cylinder as I felt these lacked the character I'd become accustomed to with Beetle ownership. I didn't want a 911 as they were regarded as tricky, so I spent four years upgrading my 914, but my wife never liked this car as it was too firm and too loud.
Then in 2014 my car was at the Amberley Museum classic car picnic, and a chap approached me as he had a 914 project for sale, which I bought, but it certainly was a project! The shell's rotten metal had been replaced, but then stood on its side acting as the sidewall of a car port, the bonnet, boot and doors in the garden and interior in the attic. It took all day to find everything.
Things didn't get going for five years until I retired. Meanwhile, I'd found a 1971 2.4 T spec 911 engine, it was ten years before I finally built that. I stripped it down, had the crank reground and the oil bypass modification done. The pistons just needed new rings, but the barrels weren't in good shape so new ones had to be purchased as well as an upgraded oil pump. I upgraded to hydraulic cam chain tensioners and the camshafts reground and hardened.
I'd only built Beetle engines before, so I very carefully followed the instructions as this was far more complicated. Meanwhile the Zenith carbs were refurbished by Eurocarb, who said they were the worst they had ever seen!
The shell was fine, but the previous owner had started a right-hand drive conversion, so the first thing I did was undo that work before starting on the doors, bonnet and boot, but soon realised they were all beyond redemption and found new panels. 
The replacements all needed repairs, but once solid I could mount them to the shell, but the bonnet just wouldn't fit – it was at least 30mm too long. Inspection revealed extensive crash damage and rust repairs which I thought I would have to cut out, but it's surprising how much you can move metal with a mallet and pieces of wood! With everything fitted it was off to a bodyshop to prepare for paint, but no surprise he found more rust to repair before it went for paint. It's Mexico Blue – period Porsche colour but for the 911 not 914.
Refurbishing the running gear was just a matter of cleaning, painting and new bushes, bearings and ball joints was all done by Christmas 2019, but wasn't installed until March as it was too cold in the garage! The front struts and larger vented brake disk and callipers are from a contemporary 911 which allowed me to fit the five-stud Fuchs wheels and the extra stopping power. 
The rear hubs were obviously the original four-stud items, so they had to be modified for the five-stud wheels. This is actually a simple job of removing the old studs then drilling new holes at the appropriate spacing and pressing in new studs. I built a new wiring loom as the original was in no state to be used. I pegged out the old loom on a sheet of 8×4 wood and replaced one wire at a time.
Once the car was built, I took it to be rolling road tuned before being MOT'd where it passed with no advisories, but 100 miles later a rattle revealed a blocked oiler tube had starved and worn a tappet. With that fixed and 1,600 miles later, it's running perfectly.
The car is a nice tourer, the six-cylinder engine makes a quieter but much nicer noise than the four pot in my previous car. The suspension on my car is more compliant, the sound insulation is more effective and my wife is now happy to come with me on outings.
Read the full version of how this Porsche 914 was reconfigured on the Practical Classics page.  
Practical Classics: Perfect reading for classic car and restoration enthusiasts
The Restorer of the Year competition is one you certainly won't want to miss. Each magazine edition features two unique stories on how classic car owners have managed to restore beautiful classics they have found to working order. The winner will be chosen by the readers and will be revealed at the NEC's Classic Car & Restoration Show in March 2023.
Source link